MSBG develops & deploys Energy Bundle Solutions for Micro-Grids, Energy Co-Ops & Independent Power Producers (IPP). Utilizing our MeterNet Secure Blockchain Grid integrated solution ( MyGRID Network Platform Server / Blockchain Socket Meters & Sub Meters) , Electric Co-Ops and IPPs can efficiently and securely process, notarize then scale Electric Power Metering, Billing and Clearing from all Distributed Energy Resources (DER).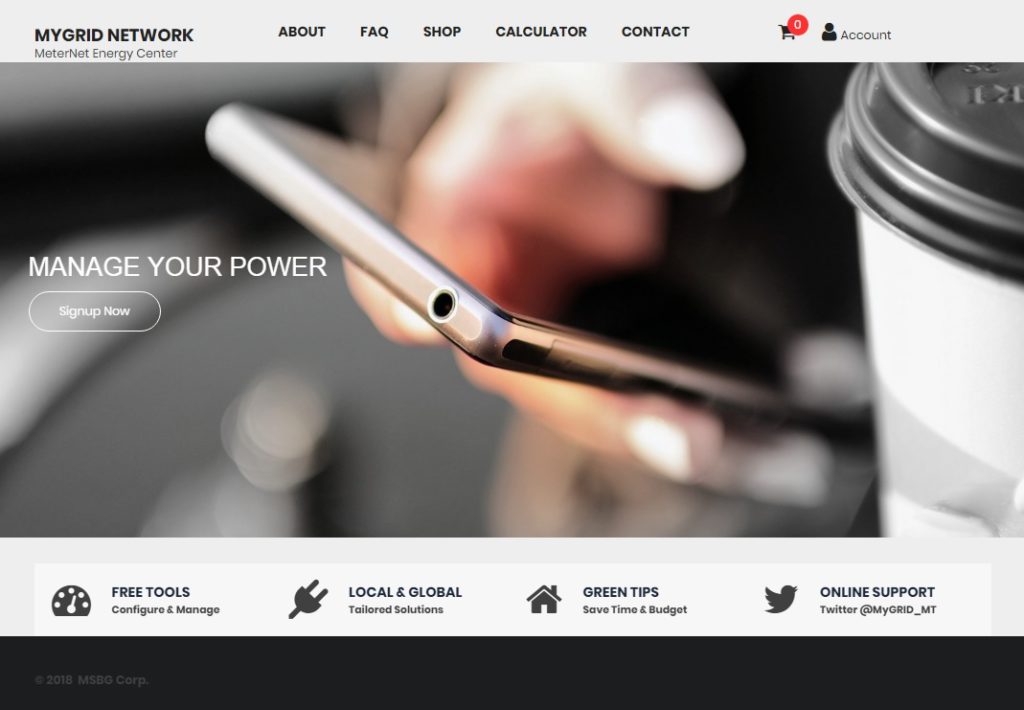 Microgrid Operator Online Orders:  http://blockchainmeters.com
Registered Address:   1621 Central Ave, Cheyenne, Wyoming, 82001
Japan Agency Office: SunLife Nishi-Yokohama #1007, Yokohama, Japan
LA Agency Office:       One World Trade Center 8th Floor Long Beach, CA
MeterNet™, Blockchain Meters℠ , BCMeter℠, MyGRID Network℠& IPP Platform℠ are trade names & service marks of MSBG Corp.  All Rights Reserved.
Company Timeline
August 2013:  MSB Games organized to develop Mobile Games
January 2014:  MSB Games Corp formed Wyoming USA (C Corp)
December 2014:  6 Mobile Game Titles developed & released
January 2015:  Game Servers moved to Enterprise-Class Data Center
June 2015:  1 Mobile Game Title developed & released
December 2015:  Integrated Openchain API from Coinprism to Issue & Digitally Register Common Shares on Blockchain (never deployed)
December 2016:  Company Reorg – Game Development paused
March 2017:  MeterNet acquisition (tech, brand, domain)
December 2017:  Pivot from Gaming to Energy segment targeting Electric Microgrids, Co-Ops & Independent Power Producers (IPP)
January 2018: Begin Development of MeterNet Secure Blockchain Grid Energy Bundle (MyGRID Network Platform Server, Blockchain Meters)
April 2018: Company name change to MSBG Corp
May 2018: Integrate PCI Level 1 Payment Gateway to MyGRID Network
May 2018: Integrate Blockchain Solution for Useage / Production Ledger
Summer 2018: Deploy MeterNet Energy Bundle on 2 Pilot Projects
Summer 2018: Series A Reg S Capital Offering:  Equity + MSBG Royalty Token
Fall 2018: Deploy MeterNet Energy Bundle to 4 Pilots
Winter 2019: Expand MeterNet Bundle to include "Water, Gas & BTU Useage"
Summer 2019: expand MyGRID Network Platform for Microgrid market-making, scheduling, delivery, clearing & payments